ELASTOMER PRODUCTS "FULXUS®"




Outline and Lineup of FULXUS®

Olefin Elastomer
Thermoplastic elastomer "FULXUS®"

FULXUS® is high-functionality compound product indigenously designed by us.
It offers high degree of freedom for designing composition.
Our top most objective is responding to and satisfying customers' requirements.
High rubber elasticity and expansive force. excellent cold resistance, heat deterioration resistance and weather resistance.
It has excellent design properties, and it is suitable for developing products that are specially focused on visual and touch sensation.
We offer all grades and we can offer products that meet your cost and functionality requirements.
Origin of FULXUS®
Amalgamation of art and society
It contains the idea that all human actions and behavior are art irrespective of whether it is labor or something else and all humans are artists. Besides, at the contact point that joins art activities (can also be called production activities) and society, conversation between the person himself and other persons (society) takes place. In other words, in the production shop floor that may appear complex yet monotonous, we wanted to give some kind of narrative and loftiness to the actions and process of making goods.
FULXUS® - Styrene elastomer
Features of styrene grade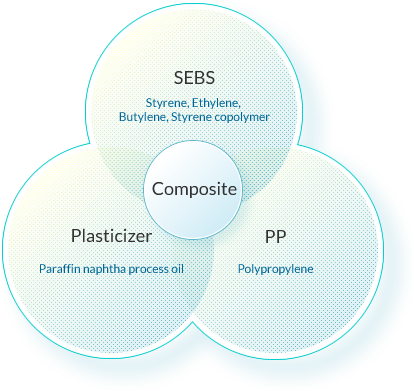 Application
Golf grip / office equipment / shaving grip / toothbrush grip / packing / automobile parts etc.
Outline and Features
Soft grade having simple composition made of SEBS, PP and plasticizer. It can be used for various applications including items with hardness A10 through 90 and more. Its salient features are, it has excellent rubber elasticity and expansive force, and it has outstanding cold resistance, heat deterioration resistance, and weather resistance. Because it is colorless, any color can be applied. It is most suitable for camouflage and it is light weight compared to vulcanized rubber.
Free design, Customize, Cost
Texture is designed as per the customers' requirements.
Final compounding with functionality(including Coloring) was achieved.
Cost competitiveness with integrated sales, technology, and production.
Lineup of styrene grade
FX-K

Series
Use of super-high-molecular SEBS polymer gives stronger mechanical properties than the standard grade, and it has excellent tensile strength and stretch.
FX-V

Series
In this grade, we have used our indigenous composition and we have given a special focus to the feeling when touched with hands. Its physical properties are more or less same as the standard grade. However, this compound has smooth feeling not found in the conventional styrene elastomer.
FX-G

Series
This is specialized grade with excellent grip and it is positioned in the extreme opposite of FX-V series. It has stickiness and it is suitable for anti-slip etc.
FX-140
FX-K140
FX-V140
FX-G140
Hardness
40
40
40
40
MFR g/10min
(190℃5.0kg)
11
11
8
20
Tensile strength MPa
5
12.5
4.5
6.5
Percentage elongation %
1000
1000
1000
1000
100% modulus
MPa
0.6
0.75
0.55
0.8
Lineup of styrene specialized grade

Olefin Elastomer
FX-BON

Series
This is specialized grade with focus on adhesiveness with resins. It has high adhesiveness due to composition suitable for PP, PS, ABS, and the like.
FX-SB

Series
By changing the base resin from SEBS to SBS, low cost products can be manufactured. However, it has low weather resistance, and therefore it is not suitable for outdoor use.
FX-TA

Series
This is a special grade for adhesiveness with tape. Styrene elastomers have poor adhesiveness with tape, and FX-TA series offers better adhesiveness with tape.
Application of styrene grade
Golf grip
- High grip function
- Specific gravity adjustment of several types with respect to the same grade
- Specific gravity management with the accuracy of ±0.005
Shaving grip
- Adhesiveness with ABS
- Blue color chromogenic effect
- Excellent formability
Toothbrush grip
- Adhesiveness with PP
- Smooth touch feeling, transparency of design
- Manufacturing stability in the production line
FULXUS® - Olefin elastomer
Features of olefin grade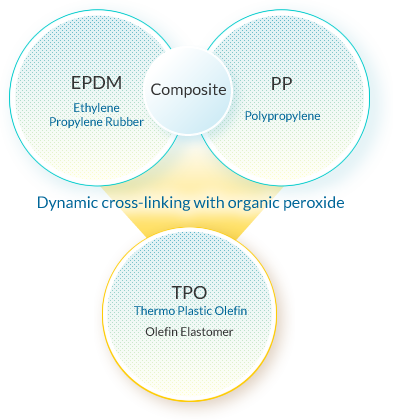 Application
Cutter grip / office chair
Outline and Features
We offer products with excellent design properties having matte finish and smooth texture like silk that gives luxurious feeling. It has same level of rubber elasticity as general rubber products, and it can be molded with the same processing method as thermoplastic resin. It can be blended with TPO series and olefin resin, and products from rubber like properties to resin like properties can be obtained. Besides, it can also be recycled.
Development of specialized products focused on visual appeal and touch feeling
Texture and mat finish as per the customers' requirements
Design keeping in mind the luxurious interior feel for using as the interior material of automobiles
In addition to meeting cost requirements, we can handle various requirements of customers
Derived based on indigenous composition and kneading method
TPO(ThermoPlasticOlefin)

Styrene Elastomer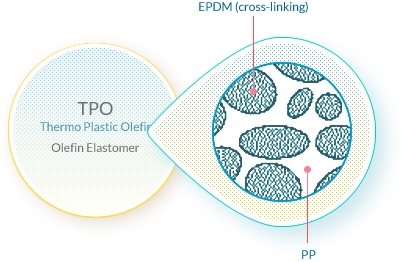 Outline
In this olefin elastomer, we have finely dispersed EPDM in PP and we have done dynamic cross-linking with organic peroxide. EPDM is either partially or completely cross-linked.
Features
Because of low density, weight of the products can be reduced (0.88-0.89)
Excellent weather resistance and chemical resistance
It has excellent heat resistance, and it has excellent extrusion and intrusion formability
It is highly recyclable, and there is very little decline in properties even if it is reused
Lineup of olefin grade

Olefin Elastomer
FX-TPO-J

Series
[Partial cross-linked type] Olefin based standard grade. In this type, degree of cross-linking as well as the balance between workability and heat resistance is also adjusted
FX-TPV

Series
[Complete cross-linked type] In this grade, rubber like properties are strengthened with completely cross-linked EPDM. While it has better mechanical strength than FX-TPO-J series, it has lower percentage of elongation.
| | | |
| --- | --- | --- |
| | FX-TPO-J160 | FX-TPV190 |
| Hardness | 60 | 90 |
| MFR g/10min(230℃5.0kg) | 30 | 40 |
| Tensile strength MPa | 4.5 | 10 |
| Percentage elongation % | 650 | 450 |
| 100% modulus MPa | 2.0 | 6.0 |
Application of olefin grade

Olefin Elastomer
Because of its matte finish and excellent touch feel,
it is widely used in products that come into contact with human skin in day-to-day life.
Grip portion of cutter body
Backrest of office chair
Natural material elastomer "FULXUS® E Series"
Outline of natural material elastomer

Olefin Elastomer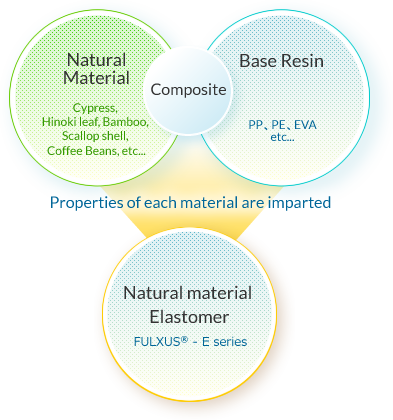 Application
Customer grade / Bath mats / Flooring materials / Wall material / Cutting board / Sound absorbing seat / Furniture / Design material / Deodorization chip etc...
Outline
This grade uses natural materials and recycled materials, and features of each material are imparted to the elastomer.
We can customize the materials that are used and their blending amount according to your preference.
Features
Texture and feeling of natural material
Properties of each material are imparted
Can be customized as per the requirements
Features of natural elastomer

Olefin Elastomer
| | |
| --- | --- |
| Material | Features |
| Cypress | It has unique odor of wood often used in construction material of bath, and it has antibacterial and insecticidal properties. |
| Hinoki leaf | It has high antibacterial properties, and the odor reminisces of forest bathing. |
| Bamboo | It has porous fiber, and it has antibacterial and deodorant properties. |
| Scallop shell | It has high antibacterial and deodorant properties. Besides, it has high degree of whiteness and it can also be colored easily. |
| Coffee beans | It has high deodorant and insecticidal properties by drying the beans left after brewing coffee. Besides, it has fine odor of coffee. |
| Clothing textiles | It has unique texture and warmth. |
| Other | Not only natural materials, but different types of materials can be blended with resin. |
Customer grade
Outline of customer grade

Olefin Elastomer
For all grades, we can impart functionality and customize elastomer as per the customers' requirements
such as physical properties adjustment and coloration.
By making the final compound, you can expect improvement in work efficiency and stability of production.

In addition, we also offer acrylic, urethane grade, and functionality imparting grade.
Please feel free to discuss physical properties adjustment, color matching, and the like.